Quick Blow Job Tips That Will Blow His Mind
It's 2018 and can you still believe we got people out here talking about they don't offer oral sex to their life partners? *Cough DJ Khaled is just one of the many people who say their mouths will not touch the nether regions of the opposite sex.
Well, that's just too damn bad! Because we are sure he likes to get pleased himself and what we're talking about today is sure to our man's eyes roll back into his head with pleasure.
We're not saying every man is deserving because anyone who DEMANDS it isn't worth your time. It is meant as an extra treat for the person you feel is worthy not for someone who feels entitled to your new found skills.
So, here's the blow job tip guide to have him calling your phone wondering where you're at even if you told him you were just running to the grocery store. Now, we're not trying to create territorial monsters out here but you've been warned.
Learn The Art of Teasing Your Man
Not every man is ready to go contrary to popular belief. In fact, it may be a little surprising to know that he actually enjoys the build-up to the real thing as it leads to a better orgasm and a huge smile on his face. If you do actually have to get him in the mood and what better way to do this than being a naughty tease?
Kiss It
Seems so simple but a forgotten little novelty. Kiss him from his head to his toes making sure to give extra kisses to his penis. He likes when you kiss it softly then french kiss it as he becomes erect.
Gently massage his balls with your tongue
Kiss the surrounding area of his groin
Kinky Massage
One of the easiest things you can do to turn your man on is to provide a d*ck massage. Really its when you place your hand on his briefs/boxers and slowly rub around the area. You can then start to become more aggressive (not yanking it) as he becomes more aroused by applying a little more grip and pressure on his penis.
Take it a step further by taking off his briefs/boxers and begin a legitimate hand job if you please. Make it kinky by talking to him, letting him know how bad you want it. Level up by getting on your knees and by adding in kisses.
Educate Yourself On Male Anatomy
All the techniques in the world can be considered useless if you don't know what actually feels good. This involves some communication with your man to learn what he likes and what he doesn't. All men have a sweet spot and knowing the amount of pressure he likes when you lick or take his balls in your mouth is crucial to a worthy experience. Tip: Always start with minimal pressure. Uncircumcised dicks are still dicks and all you have to do is pull back the skin.
Nothing But Pleasure
The key to an amazing blow job is to mix things up a bit. You can try multiple techniques in one session. You also want to remember that this is about both of you and not just him getting what he wants. It's even better when you are confident and are having fun with it. Oral sex doesn't have to be as one-sided as its reputation says it should be.
Love On The Frenulum
The underside of your man's penis is very sensitive. For a lot of men, the most sensitive spot on their penis is their frenulum. The frenulum is the underside of the tip of their penis, where the glans joins his shaft.
To drive him crazy you want to lick the is part of the penis with a gentle flicking motion. Then apply more pressure as you lick around the head of the penis, you can also apply pressure by sucking on the tip of the penis here. This is a great lead up to a blow job.
The Wetter The Better
Noone wants to feel as if they stuck their dick in the Sahara desert. And unfortunately, the penis cannot become a slip n slide like a va-jay-jay. To help get your mouth ready you can use a flavored lube or you can use other techniques like gargling with some Listerine (also helps freshen the breath), drinking some water, or "deep-throating" (taking his penis all the way down). These techniques help you use all the spit you can muster up.
Watch Your Teeth
Duh! If there is anything that can ruin an oral sex experience is when you scrape his dick with your teeth. Can you imagine someone scraping the walls of your vagina with their nails? Yeah, so basically it would suck.
Accidents happen and sometimes there is a little slip, kiss lick gently and move forward if he lets you. If your mouth is small try to wrap your lips around your teeth to create a barrier between your mouth and his penis.
**Some men do actually like a small amount of nibbling or light scraping on their penis, of course, this should be discussed.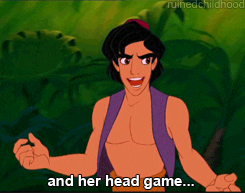 Quick Tips
As always this should be a fun experience. Just be confident in your approach and if you don't know what the f*ck you're doing just fake it until you make it. Here are 5 Quick Tips to remember:
Use your tongue to fake "deep throating"
Be enthusiastic
You don't have to be on your knees
It doesn't make you a slut if you enjoy giving head
You don't have to give oral sex to receive oral sex